With FibeAir™ solutions, fixed operators can immediately deploy seamless high capacity and spectrally efficient connectivity from the backbone across the fixed networks right to the customer.

Uniquely designed for high-growth carriers to generate immediate revenue, Airlinx's intelligent broadband network solutions support high-speed Internet access and integrated data, video and voice services. Our wireless network solutions enable carriers to instantly deploy high capacity SONET/SDH, ATM or IP networks in ring, star and mesh topologies. Unlike the fiber alternative, Airlinx's broadband wireless solutions are cost effective, flexible and quick to deploy. Our sophisticated ATPC enables customers to install multiple links in a network over the same channel.

As an intelligent network element, FibeAir uniquely supports multiple topologies, interfaces and payload types. Deployed over multiple licensed frequencies (6 to 38GHz), FibeAir products comply with worldwide standards, providing full scale solutions for national and global carriers.

FibeAir networking solutions offer:


Immediate and cost-effective ultra-high capacity and spectrally efficient network deployment
Simple network scalability
High performance IP, SONET/SDH and ATM
Modular design with a variety of interfaces
OC-12/STM-4, 2xSTM-1, OC-3/STM-1, DS3/E3, Fast Ethernet
Wireless ring, star and mesh topologies
Advanced SNMP management
SONET/SDH Networks
For fixed networks requiring high-capacity solutions, FibeAir™ systems offer carriers a high-capacity carrier-class infrastructure that supports SONET/SDH protocols.

The FibeAir Family has been designed to operate as a full SONET/SDH regenerator that fits seamlessly into SONET/SDH networks. Carriers have chosen FibeAir to deploy self-healing wireless rings, perform ring closures and interconnections, ensuring both redundancy and bandwidth in the network.

As a SONET/SDH intelligent network element, FibeAir connects high bandwidth customers to the SONET/SDH backbone, carrying IP or ATM services to the customer. In this way, FibeAir enables last mile access, or 'fiber-to-the door', for multiple tenant units (MTUs) and medium/large businesses.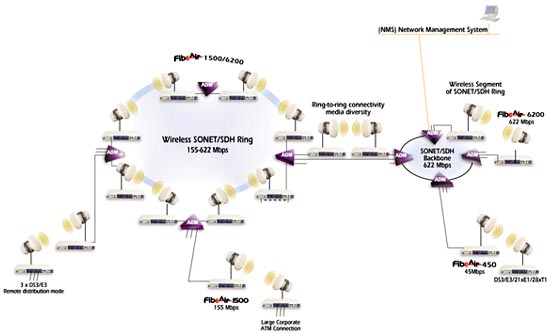 IP
Explosive Internet growth and new LAN interconnection requirements have generated a demand for higher capacity IP solutions. FibeAir™ solution offers high-performance Fast Ethernet and Gigabit Ethernet wireless connectivity.

With Fast Ethernet direct mapping into the SONET/SDH frame allows
full throughput for any sized packet (64-1522). Carriers providing Internet, Virtual Private Networks, voice over IP and video services can now connect businesses straight to the SONET/SDH backbone and deliver IP transmission over the entire network infrastructure.

The system's dual interface means customers can select single Gigabit Ethernet or multiple Fast Ethernet connections. A combination of Fast Ethernet and DS3/E3, or n x T1/E1 ports offers a flexible solution for voice, video and data applications. Each Fast Ethernet channel provides a separate and secure connection to every customer, substantially reducing costs and simplifying network management, as no additional equipment or link duplication is necessary.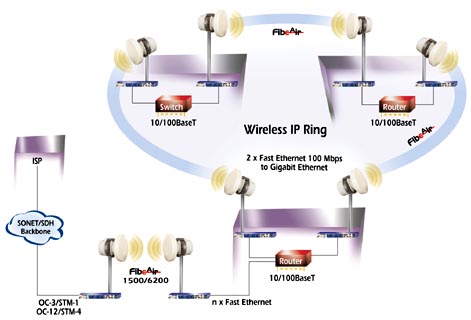 ATM
FibeAir™ systems are optimally designed for microwave ATM transmission. With advanced algorithms to minimize cell loss (CLR) and cell mis-insertion (CMR), the product's cell loss ratio has been proven to be 10 times lower than other wireless solutions. Along with these enhanced error-correction mechanisms, FibeAir's intelligent network elements ensure optimum performance and fiber-like quality transmission.

FibeAir products integrate with ATM equipment to provide both a complete ATM access solution and ATM backbone connectivity, with speeds of up to 622 Mbps. Superior ATM performance ensures a high quality, quickly deployable wireless ATM infrastructure.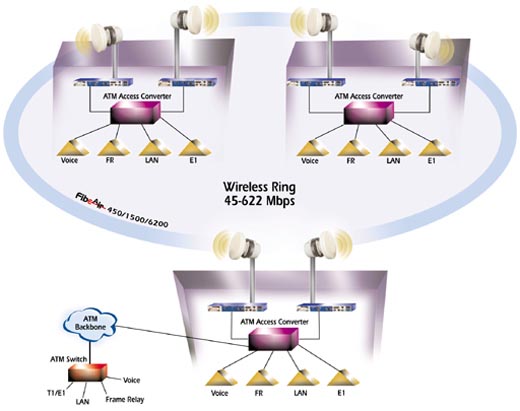 LMDS
The spectral-efficient FibeAir™ Family is the ideal wireless building block for new generation carriers who are deploying Point-to-Multipoint (LMDS) networks. FibeAir offers a wireless network solution providing ultra-high capacity connections between Point-to-Multipoint base stations and onto a fiber backbone.

FibeAir can also provide a dedicated 155-622 Mbps link from the hub to a large customer. Additional connections can be made to the PSTN and ISP, providing a gateway to wireless networking for all service providers.

With its variety of frequency plans for the LMDS bands, FibeAir is suitable for operation with most point-to-multipoint systems, and fits seamlessly into the variety of licensee spectrum allocations. Carriers looking to connect the backbone to any type of PMP network have chosen FibeAir's flexible solution because of its modularity and variety of interface options.