Management Applications
Airlinx uses state-of-the-art applications to manage FibeAir™ units in the network. These applications enable flexible integration with other host NMS (Network Management System) platforms.

The management applications are:
CeraView
CeraView is Java-based powerful, yet simple network element manager that runs on Windows 95/98/2000/NT and UNIX, and integrates with different NMS platforms, such as HP OpenView and SNMPc.

CeraView's features include:

Powerful, Easy-to-use GUI (Graphical User Interface)
Full performance monitoring and statistical/historical records
Remote diagnostics for technical fault isolation
Supports software upgrade
Secure remote access to FibeAir units via the Internet, or using a dial-up modem
Java-based application, allowing easy integration with different NMS platforms and operating systems
NMS functions in accordance with ITU-T recommendations for Telecommunication Management Networks
PolyView
PolyView is our powerful and user-friendly NMS (Network Management System) that integrates with other NMS platforms (such as HP OpenView), and systems in which no NMS is used. It provides management functions for FibeAir systems at both the network level and the network element level.

Using PolyView, one can generate performance and inventory reports, and perform software download, and configuration management. PolyView also automatically creates a backup of the configuration of all the network elements in its internal SQL database.

PolyView provides a service of Trap-Forwarding to northbound management systems. The sevice includes an alarm synchronization, which continuously updates the list of current alarms.

PolyView supports all FibeAir products, and compliments CeraView by providing a higher level of management support.

PolyView is implemented in Java, which enables it to run on different operating systems.

PolyView is security-protected, whereby the various operations can only be performed by personnel authorized by the system administrators.

Management Overview

As shown in the following illustration, FibeAir units communicate with CeraView EMS through their SNMP based ports, and with PolyView NMS via the host NMS platform with which they are integrated.

SNMP based management data can also be delivered to CeraView through FibeAir's RS-232 terminal port. The terminal port (ASCII) can be connected to an LCT (Local Craft Terminal) or palm held device.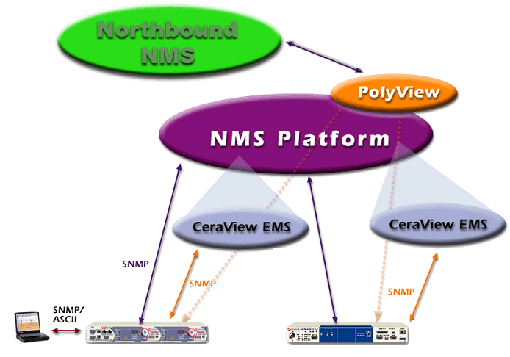 Home | Products | Services | Request Info | About Us | Contact Us
_____________________________________________________________

Toll Free (888) 224-6814 | Fax (603) 878-0530 | sales@mmWaves.com
© 2019 mmWaves : ver 2.0 - All Rights Reserved