FibeAir 1500I/1528I
Features
Provides Fast Ethernet with optional T1/E1 capabilities


Operates in the millimetric wave frequencies of 6-38 GHz


16 and 128 QAM modulation schemes


Automatic TX power control (ATPC)


Full throughput at any packet size


(1+0) or protected (1+1) configuration


Additional 2 Mbps wayside channel and 64 Kbps user channel


Compact, easy to deploy, and fully software configurable


Complies with FCC, ETSI, ITU-R, ITU-T, and IEEE


Java-based SNMP element manager and PolyView™ open interface network management applications

Description

The FibeAir™ 1500I/1528I Digital Radio system offers compact, easy to deploy, and cost-effective LAN-to-LAN and PBX connectivity for campus networks, large enterprises, and metro last mile access. The system provides full throughput, full-duplex Fast Ethernet (100 Mbps) connectivity with optional T1/E1 capabilities for TDM based trafffic.

The FibeAir 1500I/1528I system uses advanced technologies to efficiently transport Fast Ethernet and telephony payloads with fiber-like quality. Forward Error Correction (FEC) and powerful Digital Signal Processors (DSP) are implemented in the design to ensure low residual BER (<10-13) and high system performance in all weather conditions.

FibeAir 1500I/1528I operates in the 6-38 GHz frequency bands and provides Fast Ethernet with optional T1/E1 capabilities (supports Ethernet (10BaseT) or E1 connections) and a 64 Kbps user channel.

In a FibeAir 1500I/1528I protected (1+1) configuration, two radios are connected to provide redundancy using the same frequency channel.

An affordable solution for private/public network designers, the FibeAir 1500I/1528I system is the ultimate building block for wireless IP networks.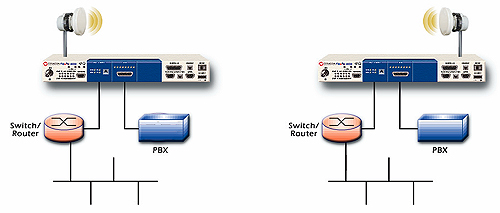 Home | Products | Services | Request Info | About Us | Contact Us
_____________________________________________________________

Toll Free (888) 224-6814 | Fax (603) 878-0530 | sales@mmWaves.com
© 2019 mmWaves : ver 2.0 - All Rights Reserved